$7.00, all the PDF files combined
This PDF book contains all the pdf files found on our site; all the files are combined in one PDF file to make easier for you and save you time from downloading each file separately. You will receive an email with a download link. If you don't receive an email, please check your spam folder.
 Greek folk music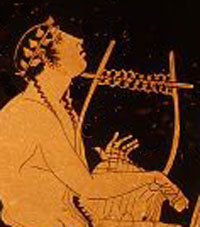 Greek folk traditions are said to derive from the music played by ancient Greeks. There are said to be two musical movements in Greek folk music (παραδοσιακή μουσική): Acritic songs and Klephtic songs. Akritic music comes from the 9th century akrites, or border guards of the Byzantine Empire. Following the end of the Byzantine period, klephtic music arose before the Greek Revolution, developed among the kleftes, warriors who fought against the Ottoman Empire. Klephtic music is monophonic and uses no harmonic accompaniment.
Paleá dhimotiká (Παλαιά δημοτικά "old traditional songs", mainly from Peloponnese and Thessaly) are accompanied by clarinets, guitars, tambourines and violins, and include dance music forms like syrtó, kalamatianó, tsámiko and hasaposérviko, as well as vocal music like kléftiko. Many of the earliest recordings were done by Arvanites like Yiorgia Mittaki and Yiorgios Papasidheris. Instrumentalists include clarinet virtuosos like Petroloukas Halkias, Yiorgos Yevyelis and Yiannis Vassilopoulos, as well as oud and fiddle players like Nikos Saragoudas and Yiorgos Koros.
Greek folk music is found all throughout Greece, as well as among communities in countries like the United States, Canada and Australia. The island of Cyprus and several regions of Turkey are home to long-standing communities of ethnic Greeks with their own unique styles of music.
Nisiótika is a general term denoting folk songs from the Aegean Islands. Among the most popular types of them is Ikariótiko traghoúdhi "song from Ikaria".
Ikariótikos is a traditional type of dance, and also the name of its accompanying type of singing, originating in the Aegean island of Ikaria. At first it was a very slow dance, but today Ikariotikos is a very quick dance. Some specialists say that the traditional Ikariotikos was slow and the quick "version" of it is in fact Ballos. Music and dancing are major forms of entertainment in Ikaria. Throughout the year Ikarians host baptisms, weddings, parties and religious festivals where one can listen and dance to live traditional Ikarian Music.
Singer Mariza Koch was largely responsible for the revival of interest in Nisiótika in the 70s and 80s.[4] During the 1990s and 2000s, artists such as Nikolas Hatzopoulos, Stella Konitopoulou, and the Mythos Band helped this music gain occasional mainstream popularity.
Main article: Music of Crete
Crete is an island which is a part of Greece. The lýra is the dominant folk instrument on the island; it is a three-stringed bowed instrument similar to the Byzantine Lyra. It is often accompanied by the Cretian lute (laoúto), which is similar to both an oud and a mandolin. Nikos Xylouris, Antonis Xylouris (or Psarantonis), Thanassis Skordalos, Kostas Moundakis, and Vasilis Skoulas are among the most renowned players of the lýra.
The "tabachaniotika" (IPA: [tabaxaˈɲotika]; sing.: tabachaniotiko – Greek: ταμπαχανιώτικο) songs are a Cretan urban musical repertory which belongs to the wide family of musics, like the rebetiko and music of the Café-aman, that merge Greek and Eastern music elements. This genre represents an outcome of the Cretan-Minor Asia's Greek cultural syncretism in East Mediterranean Sea. It developed mainly after the immigration of Smyrna's refugees in 1922, as did the more widespread rebetiko.
Various conjectures are advanced to explain the meaning and origin of the term "tabachaniotika". Kostas Papadakis believes that it comes from tabakaniotikes (*ταμπακανιώτικες), which may mean places where hashish (Greek: ταμπάκο "tobacco") is smoked while music is performed, as was the case with the tekédes (τεκέδες; pl. of tekés) of Piraeus. But a quarter named Tabahana (Ταμπάχανα) existed in Smyrna—a name which has the Turkish root tabak: tanner; tabakhane: tannery). In Chaniá too, there was a quarter with the same name, where refugees from Smyrna lived after the 1922 diaspora. Tabachaniotiko was also the name of a song of the amanés genre, which was popular in Smyrna in the period before 1922, together with some other songs called Minóre, Bournovalió, Galatá, and Tzivaéri[5]. Compare the performance of Greek-Turkish ballos by a Greek ensemble in New York City in 1928, included in the online article on Mediterranean music in America by Karl Signell.
This detail might be critical for the history of Cretan tabachaniotika, since Cretans frequently had contacts with the people and music of Smyrna during the nineteenth century. Cretan musicians believe that the further development of Cretan tabachaniotika took place mainly after 1922, as a consequence of the refugees' resettlement. The genre was popular until the 1950s.
Major features of the tabachaniotika songs are the following:
Dromoi (sing.: dromos – δρόμος), modal types designated by Turkish names, like rasti, houzam, hijaz, ousak, niaventi, and sabak.
Instrumental introduction before the song (taximi, pl.:, taximia), where the player explores the dromos.
Tsiftetéli rhythm, as in the Turkish "belly dance" music example heard in Signell's article.
Musical instruments like bouzouki, boulgarí (μπουλγκαρί; the Cretan version of the Turkish bağlama, similar to the earliest forms of the bouzouki), and baglamás. Original Article
For more greek sheet music see the links below:
More Greek Music that starts with the letter "A" through "E"
More Greek Music that starts with the letter "F" through "P"
More Greek Music that starts with the letter "T" through "Z"
Free Download and enjoy! If you find this site beneficial, to ensure the continuity of the site please consider donating, even if it's only one dollar: