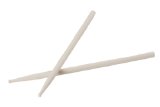 Size 5A (thinnest used most for Jazz and Rock). Available in 3 thicknesses (5A, 5B, 2B)
World's first biodegradable, earth-friendly, award-winning, wheat drumsticks!
Compatible with ROCKBAND and ELECTRONIC DRUMSETS, the softer material and density produce a slight flexibility for whip and snap effect!
These round-tip sticks provide less vibration, easy to grip non-slip texturing on handle, and a quicker bounce back
Tree-free, saves forests. When done, throw in the garden, they will biodegrade and disappear!
Earth friendly tree-free drumsticks offer a natural textured feel / Only bio-compostable drumsticks in the world / 5A Diameter 1/2 inch, 16 inches longThe WHEATWARE drumstick offers a long lasting durability, affordability and performance. Easier for the electronics under the drumpad for longer lasting electronic sensors, as well as they offer easier play with less vibration for less wear and tear on the drummers wrists. Not perfect… but biodegradable! Wheatware Drumsticks–Right for Any
List Price: $ 14.99
Price: [wpramaprice asin="B001GO1SWS"]
http://www.sheetmusicdaily.com/wp-content/uploads/SheetMusicDaily-300x53.jpg
0
0
sheetmusic
http://www.sheetmusicdaily.com/wp-content/uploads/SheetMusicDaily-300x53.jpg
sheetmusic
2011-08-16 19:51:11
2011-08-16 19:51:11
Wheatware Drumsticks 5A, 1 pair